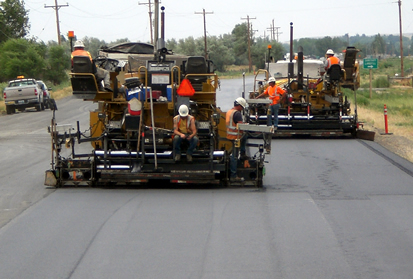 Throughout our companies history we have prided ourselves on having a close cooperative working relationship with WYDOT, the FHWA and their employees. McGarvin-Moberly is also an active memeber of the Associated General Contractors of Wyoming (formerly the Wyoming Contractors Association) partnering with the AGC of WY on many issues that face Wyoming Contractors today.
Helping to build a better highway system for the traveling public is a team effort that we here at McGarvin-Moberly Construction Co. focus on and accomplish with the help of the Associated General Contractors of Wyoming, State and Federal Agencies like WYDOT and the FHWA.
---
The McGarvin-Moberly Construction Co. Mission
To be profitable in the safest environment possible.
To train and educate our employees to the highest level obtainable.
To communicate to the public the benefits of working for our organization, in order to recruit and retain quality in our workforce.
Be involved in community and industry functions for a more comfortable relationship.
To continue to honor our commitments with professional integrity and the highest possible quality.
To create a profitable and enjoyable work environment through teamwork, motivation and a commitment to excellence.